Looking for a glamorous upgrade to your home or property? Copper gutters would be a captivating choice!
The Basics
The Gutter Company offers installation of both K-style and half round copper gutters and downspouts.
Don't let the price fool you — over time, the per-year cost of a copper gutter system equals to be the same as gutter made from other materials. When first installed, your copper gutters will appear very shiny. With time, their color will change, adding to the elegance and classiness they contribute to a home.
The Benefits
Copper gutter doesn't rust! This gives them their long life span of 60-100 years. In fact, it's more likely that copper gutters will have to be replaced due to visual imperfections or denting caused by tree branches or ladders than it is that they will have to be replaced due to leaking.
Copper gutter increases your home's value! The look as well as the longevity of copper gutter will help your property stand out on the market. They are a great fit for historic properties, and custom or traditional homes.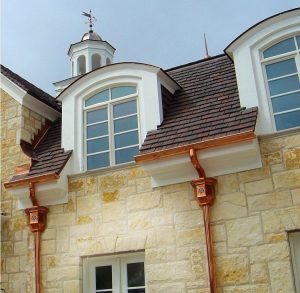 Caring for your Copper Gutters
The best way to make sure your copper gutters are properly functioning is to keep the inside of your copper gutters clear of debris. The Gutter Company offers leaf guard for you copper gutter, which sits on top of the gutter and helps protect against the collection of leaves and other debris inside. Additionally, it is also recommended to use plastic tools and wear gloves to clean debris out of your gutters. Metal tools can scratch the gutters and oils from your skin will leave spots on the gutters.
Here at The Gutter Company, we strive to be the best and provide quality work at all times! Our friendly estimators are standing by. Call today to view our samples and get a personalized estimate! You can reach us at (813) 539-5260 or by clicking here.