Do you find yourself wondering if your property really needs gutters? Gutter systems are a crucial part of maintaining your home or property. Keep reading to find out why!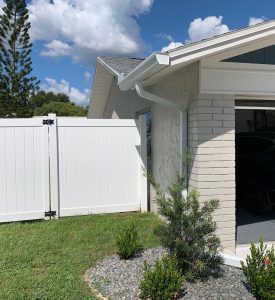 The purpose of guttering systems is to collect rainwater from the roofing area and disperse the water away from your home. Properly configured downspouts are very essential.
A faulty guttering system can contribute to damage to soffit and fascia, shingles, building foundations, driveways, walkways and landscaping.
Gutter systems require maintenance to ensure protection for your home. If you have gutters, make sure your gutters are free from debris, leaves, shingle grit and birds nests. The extreme exposure to nature can also cause sealant failures (check out our gutter guard options!).
Conveniently located in Oldsmar, FL, The Gutter Company offers quick access to neighboring Hillsborough and Pasco counties, as well as the Gulf beaches outlining Tampa Bay. Here at The Gutter Company, we strive to be the best and provide quality work at all times! Our friendly estimators are standing by. Call today to view our samples and get a personalized estimate! You can reach us at (813) 539-5260 or by clicking here.