Cleaning your gutters? See below for some tips:
(1) Use plastic tools
Metal tools can scratch your gutter! Special scoops specifically designed for gutter cleaning are available at hardware stores, but you can also use a plastic child's sand shovel, or even a plastic kitchen spatula.
(2) Wear gloves
Protect your hands from any debris inside your gutters. Also, oils from your skin can leave spots on copper gutters.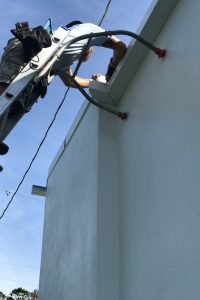 (3) Have a bag or bucket handy
You'll need somewhere to hold the debris for easy disposal later.
(4) Rinse your gutters with water
Use a hose to flush out the gutters and wash out any remaining debris
(5) Get help from The Gutter Company
Take advantage of our professional gutter cleaning services!
Conveniently located in Oldsmar, FL, The Gutter Company offers quick access to neighboring Hillsborough and Pasco counties, as well as the Gulf beaches outlining Tampa Bay. We strive to be the best and provide quality work at all times! Our friendly estimators are standing by. Call today to  get a personalized estimate! You can reach us at (813) 539-5260 or by clicking here.