If you're looking for a unique addition to your home in Pinellas, Pasco or Hillsborough county, consider half round gutters over traditional k-style rain gutters.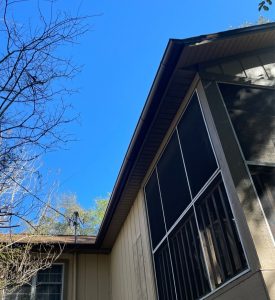 What makes half round gutters special is their U-shape, resembling a cylinder that has been sliced in half. They are less prone to corrosion and have a smoother shape. They are available in painted aluminum and steel (many colors to choose from!), as well as copper.
Half round gutters belong to a modern system that has a high rainfall carrying capacity and highlight period architecture. Furthermore, these type of rain gutters have an improved curved base which helps in reduced buildup of water and dirt.
Half round style gutters is all about choices and style, however, the installation method is similar to that of seamless k-style gutters. As per your requirements, you can even select from a variety of hanger options such as elbows, hand cut miters, round downspouts, and hidden hangers.
Make your house stand out among others on the housing markets with half round gutter installation!
Conveniently located in Oldsmar, FL, The Gutter Company offers quick access to neighboring Hillsborough and Pasco counties, as well as the Gulf beaches outlining Tampa Bay. We strive to be the best and provide quality work at all times! Our friendly estimators are standing by. Call today to view our samples and get a personalized estimate for half round gutters for you home in Hillsborough, Pasco or Pinellas! You can reach us at (813) 539-5260 or by clicking here.