Think your gutters might be clogged? These occurrences might be signs that your gutters need some attention:
Your gutters are caving in on themselves or sagging
As debris collects in your gutters, the gutters have the potential to sag, bend, or pull away from your home. Long-term debris collection will not only damage your gutters, but can also lead to water damage on your home.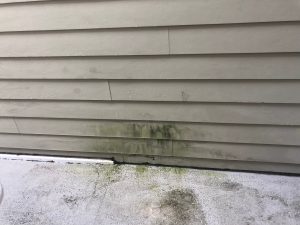 You're noticing water stains on the sides of your home
A normal rain shower should not leave water staining on the sides of your home, unless your gutters have standing water present. Water that cannot drain away from the sides of your home will only cause damage. This damage could be present on your shingles, fascia, or siding.
Your gutters are attracting birds, bugs and other pests
What might look like a collection of debris in your gutters to you, looks like the perfect place to build a nest to a bird. You might also notice bugs gathering near your gutters if they're holding standing water.
Your gutters look like a waterfall during rainy weather
If your gutters are overflowing, it's a telltale sign that the water is unable to drain properly. When your gutters cannot adequately move water away from the foundation of your home, you might notice damage to the foundation, or flooding in your basement.
Your gutters are home to a garden
It's never a good sign if you see plants growing in your gutters! Seeds can often find their way into your gutters. With rain and dirt also collecting in your gutters, this is a recipe for a garden.
You're unsure of the last time your gutters were cleaned
It's recommended that your gutters are cleaned every season! If you can't remember last cleaning your gutters, it's likely that you have your work cut out for you. Years of accumulating debris can lead to costly water damage to your home.
You can avoid all of this hassle! Trust The Gutter Company with leaf guard installation for your gutter system.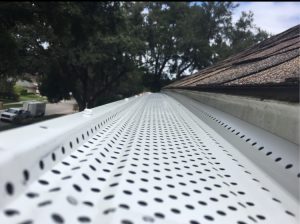 The Gutter Company offers two types of leaf guard in order to protect your gutters against the different types of debris present around your home.
Senox Smart Flow is ideal for blocking large flat leaves, but is generally unsuitable for smaller debris including shingle grit.
Leaf Blaster Pro is the right choice for homeowners looking to protect their gutters from many types of debris, including pine needles, shingle grit, leaves, and even bugs like mosquitos and wasps.
Here at The Gutter Company, we strive to be the best and provide quality work at all times! Our friendly estimators are standing by. Call today to view our samples and get a personalized estimate for leaf guard installation! You can reach us at (813) 539-5260 or by clicking here.